With a little strategy and conscientious planning, saving money at the grocery store can be done. The budget for groceries occupies a big chunk of our list of priorities. It is no joke unless you are earning a hefty amount, or you are living alone, or no other family member is dependent on your grocery shopping.
How can I save money on groceries? This is a question we often ask ourselves every time we think of food for everyone at home, and even to include our pets. Indeed, budgeted grocery shopping is a goal as part of effectively managing our hard-earned money. Read on for the 5 quickest ways to save on your groceries.
Shop on what's in season. A smart way to save money is to know what those seasonal ingredients are. Grocers lower the price of these goods in the season due to their abundance. Supply is high, and prices get competitive. Take advantage of these lower prices and you can even buy up extra for future use.
Fruits and vegetables get cheaper when they are in season. Buy ripe fruits that are ready to eat or will ripen in a day or two. In this way, you do not need to eat all the fruits you have bought within the day you purchased thus avoiding waste.
Make a grocery list. Before going out for grocery, take an inventory of your fridge, freezer, and all other household needs. Also, make a meal plan. In this way, you will know what ingredients are needed and likewise, to be included in the list. Stick to your list. Unplanned and impulsive buying will be avoided and much more saves you time.
Look up and down and at the ends. It is a marketing strategy for grocers to position high-margin items, and usually the expensive ones, at eye level for high visibility and easy reach for the shoppers. Know that cheaper goods are placed either on the upper or lower shelves. Goods on sale and on-season are those at the gondola ends or island displays.
Convenience has its cost. Know that everything made easy and convenient brings with it some hidden costs. It is tempting to buy pre-cut pineapple or a pack of shredded cheese. Do away from these convenience buys since you are actually paying more. Wouldn't it be fun in the kitchen if you do the cutting and grating on your own?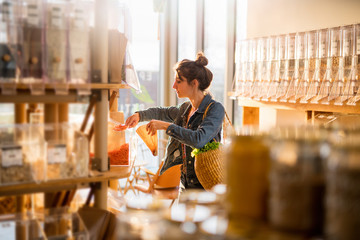 Embrace the bins. The bulk bins of grains, flour, and nuts are a welcome sight for the budget-conscious. These are the items you would buy often and you can get as little or as much as you need. Know that these items consume minimal packaging, so they are cheaper. Also, some supermarkets have near-expiry items that they also put on sale.
To sum it all, it takes a little effort to do grocery shopping with a budget in mind. The little savings from each item would spell a big difference in the long haul. Use these 5 tips to save some money.